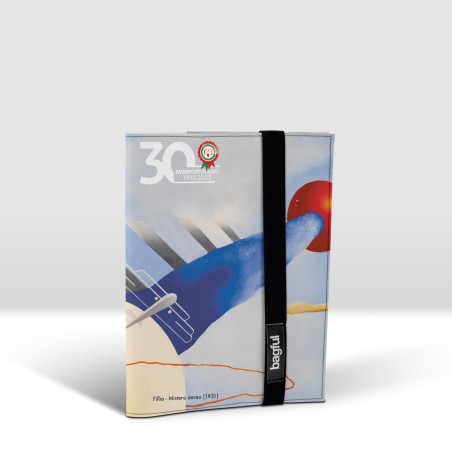  
COVER Mistero Aereo
We chose this painting of the Futurist Aeropainting created by Luigi Colombo (Fillìa- Mistero aereo - Fondazione Museo Storico del Trentino) between 1930 and 1931 for the modernity of the colors and shapes and for the artist's ability to represent emotion. of flight.
Limited edition only on order with the thirty-year Avioportolano logo
Easy to handle, equipped with an external elastic to keep it compact. It refers to that indispensable tool for those poets and traveling artists who in the 19th century traveled the world in search of the "sublime". And it is still the best tool for storing thoughts, travel notes, drawings and memos.
Internal booklet with metal spiral back that can be replaced with similar ones on the market. Made of soft PVC handcrafted entirely in Italy with hand stitching and reinforcements.
Purchase: on order only
Data sheet
Materiale

PVC

Dimensione

16cm X 22cm X 1cm