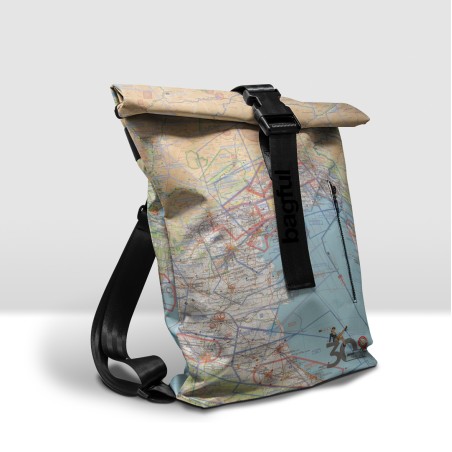  
ZAINO Navigator
Perfect reproduction of the 1: 500,000 Avioportolano VFR cartography with clear print of all the graphic details that have imposed the Avioportolano style in cartography throughout Europe. Aviation geography is beautiful, rich, complex, readable by a lucky few: it tells your story and who you are.
Limited edition only on order with the thirty-year Avioportolano logo
Backpack with the correct dimensions to be easily worn on the shoulder and placed in the trunk of the airplane. Adjustable capacity from 16 lt to 11 lt. Height reducible from 55 cm to 40 cm. Made of soft PVC with external pocket. Adjustable shoulder strap with attachment ring. Internal back support padding. When not used it can be reduced to 35x7 cm. Entirely handcrafted in Italy with hand stitching and reinforcements.
Purchase: on order only
Data sheet
Materiale

PVC

Capacità

Dimensione

L: 27cm X P: 10cm X H: 40/55cm